7 Great Fall Vegetables To Plant in Your Vegetable Garden
Here are some great fall vegetables to plant. Not only can you extend your garden life, but you'll be able to add quickly to your freezer and pantry. If you can your produce, or if you prefer freezing for future use these are great choices. While not as easy as some, there is a multitude of things you can create with these great foods that can be utilized year round from your pantry. These are excellent nutrient dense easy to grow vegetables your entire family will love.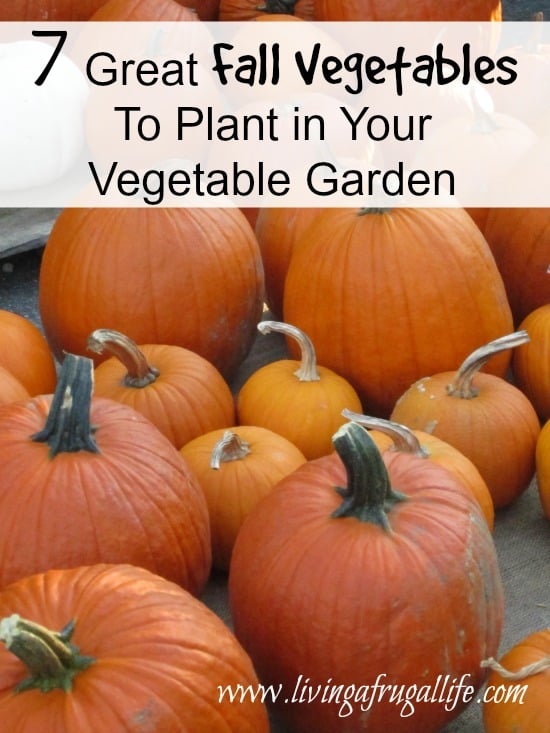 7 Great Fall Vegetables To Plant in Your Vegetable Garden
Pumpkins & Gourds:
This is an obvious item that is popular every fall. Start planting in late summer and harvest as Fall creeps in. Pumpkins, gourds, and various squash are excellent things to harvest in the fall and early winter days. Cook down and freeze or can for future use. With gourds, you can even hollow out and use the shell as a great home décor item. Let them dry out and you can paint and decorate them for fun crafts.
Beets:
Often, Beets get a bad rap, but they are a great hearty addition to salads and many people love them when pickled. Beets do well in cooler temperatures and are super easy to peel, boil and can for use year round.
Turnip Greens:
Turnip, collard and mustard greens are a classic fall crop to plant. They are sturdy plants that flourish in cooler temperatures. Canned greens are a perfect item in your home pantry, but you can quickly clean, chop, blanch and freeze them to add to stews, soups or cook alone for a great veggie rich meal.
Broccoli:
Broccoli takes around ten weeks to become ready to harvest. Plant in the late summer days and see them flourish in the cooler fall temperatures.
Cabbage:
Cabbage doesn't like super hot areas or too much sunlight, so planting later in the summer and early fall is perfect. Recommended planting between 6-8 weeks before the first frost is common. Cabbage is great for canning cooked or as a great sauerkraut.
Brussels Sprouts:
Since these take approximately 3-4 months to mature and be ready to pick, planting later in the summer or early fall is great for fall and early winter harvest. Cooler temperatures make Brussels Sprouts a much better flavor.
Spinach:
Plant at least a month before the first frost is expected to hit for your region. Spinach has been known to grow and flourish in temperatures as low as 20 degrees. Spinach loves the cooler temperatures and does better in less sunlight, so shorter fall days are perfect for stellar spinach crops. Since spinach can be cooked and canned or frozen, it is a great plant to grow and store for future use.
These great fall vegetables to plant in your vegetable garden are excellent sources of your favorite nutrients. Not only are there a lot of great leafy green vegetables that grow well during cooler months, but these are also good for home canning or freezing to use year round.