Homemade Cherry Pie Frugal Recipe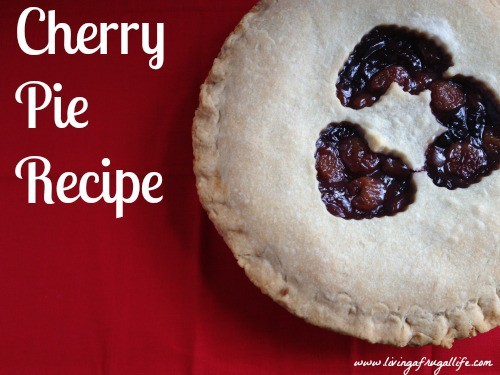 Homemade Cherry Pie is a recipe that many people stay away from because they don't think it can be easy.  The truth is, it is VERY easy!  And you can make it special for different holiday's like I did for Valentines.
With this recipe I used home canned cherries.  But you can use canned cherries, or fresh cherries to make the this easy cherry pie recipe.
This is the best cherry pie recipe I have ever had.  Mostly because it is simple, sweet and easy to make.
Homemade Cherry Pie Recipe
Homemade Cherry Pie Recipe
Recipe Type: Dessert
Author: Melissa @ Living a Frugal Life
Prep time: 30 mins
Cook time: 55 mins
Total time: 1 hour 25 mins
Serves: 8
Ingredients
Filling
1 1/4 C Sugar
1/3 Cup Cornstarch
1 Cup Cherry Juice from jar if using canned Cherries or Cherry Juice Blend
4-4 1/2 cups Tart Cherries
1/2 tsp Ground Cinnamon
1/4 tsp Ground Nutmeg
1/4 tsp Vanilla Extract
Crust
2 1/2 cups all-purpose flour, plus extra for rolling
1 cup (2 sticks) butter, chilled, cut into cubes
1 teaspoon salt
1 teaspoon sugar
3 to 5 Tbsp cold water
Instructions
In a large saucepan, combine sugar and cornstarch
Gradually stir in cherry juice and stir until smooth
Bring to a Boil and stir for 2 minutes
Add cherries to pan and let cook for 3 more minutes or until thickened
Remove from heat and add cinnamon, nutmeg, and extract
set aside to cool while you get the crust ready
Combine flour, salt, and sugar in a bowl
Add butter and cut in until mixture resembles coarse meal, with pea size pieces of butter.
Add water 1 Tbsp at a time, mixing until mixture just begins to clump together. If you pinch some of the crumbly dough and it holds together, it's ready. If the dough doesn't hold together, add a little more water and mix again.
Remove dough from machine and place in a mound on a clean surface.
Gently shape the dough mixture into two disks. Work the dough just enough to form the disks, do not over-knead.
Sprinkle a little flour around the disks. Wrap each disk in plastic wrap and refrigerate at least 1 hour, and up to 2 days.
Take one mound of dough and roll it out to cover the pan bottom.
fill crust with filling until slightly above edge of pie crust
Roll out second moundout for crust top.
Roll crust up and unroll it over the fruit filling
Cut off excess and pinch edges of the 2 crusts together to seal in the filling.
Bake at 425º for 10 mins. Then reduce heat to 375º for 45-50 mins or until crust is golden brown.
Cool on wire rack
3.2.1215
Check out more frugal recipes!