My Natural Foods Conversion at Expo West
Expo West is the mecca of all natural and organic products.  I honestly had no idea just how big the natural and organic industry was until I walked through the doors of the Expo.  My exposure with natural products was almost non existent before this.  I had not been prepared for how this would change my ideas of what was good food.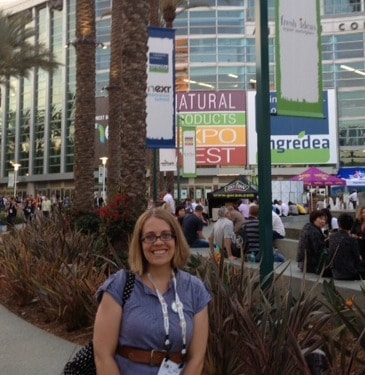 I can honestly say that I have never cared for anything organic.  I have felt like it is not worth the money.  Honestly I still don't feel like a lot of it is worth the money.  but the natural food and product industry is a totally different thing.  Everything I have tasted was SO good!  I kept tasting more and more and realized natural food products are completely different then organics.
I have been trying to eat clean lately.  I have been trying to more aware of what I put in my body.  I am addicted to sweets though.  I have a really hard time sitting and blogging and not snacking.  I got samples of SUPER good natural foods and I would sit and eat it night after night because it was SO good!  I can't tell you how frustrating yet appeasing it has been.
It is because of this that I have decided that natural product just taste better!!!  and why do you think they are better?  because they aren't processed, they don't have a bunch of "stuff" added to it.  It is natural foods!
So I have decided that I am not going to try to be "healthy"  I am just going to try to eat more whole natural foods.  I am going to try to snack less, and watch my portion sizes, but mostly I am going to try to have more whole foods and natural foods in the house.  I am going to go back to cooking more often and making items in double batches so I can freeze some for later and still have good whole foods.  I am also going to plan some no meat meals so that I can
So to do this the best I can, I went through the samples I got.  I picked out my top 4 products and then also share some more of the others later as I highlight my favorites with reviews and giveaways!
My favorite 4 products from the Natural Foods Expo
Berry Breeze – When I saw this product I was a little unsure what it was.  So I picked up the box and when I saw what it was, I just wanted to take it home with me and tell the world about it!  Berry Breeze is a product that you put in your fridge and it creates a perfect oxygen level to preserve fruits and veggies so they last longer in your fridge!  What is more frugal then that???  If you want to read others reviews or if you want buy one now you can do it here
Neat – Neat is the best meat substitute I have ever had.  It is made with garbanzo beans and everyone who tastes it says it tastes just like meat!  I gave it to my picky eater 3 year old and she gobbled it up!  She had no idea it wasn't taco meat.  I can't wait to share more about that with you later.  It will seriously change your life!  If you want to know more or if you want buy one now you can do it here
Mommi Protien – This is the best invention for pregnant moms since sliced bread!  I can't wait to share more with you about this later.  But basically mommi is a protein shake that has pregnancy safe protein with all your prenatal vitamins and DHA!  Basically a dream for any pregnant woman who throws up all the time.  I was that mom when I was pregnant with my girls.  couldn't keep anything down for 6 months yet gained 60 pounds with my pregnancy because I ate crackers all the time.  This isn't even out for sale yet, but if you go to the website you can sign up for a free sample of it to try it out.
Daiya Cheese – This is a dairy and soy free vegetable based cheese.  It is SO good!  I seriously love it more the regular cheese.  I can't wait to find more of their products.  The best part is that all their pizzas are dairy, soy and gluten free.  They are so fresh!  If you know where their products are sold in So cal please share so I can get them soon.
What of these products are you most excited to hear about?