Quinoa Stuffed Peppers Recipe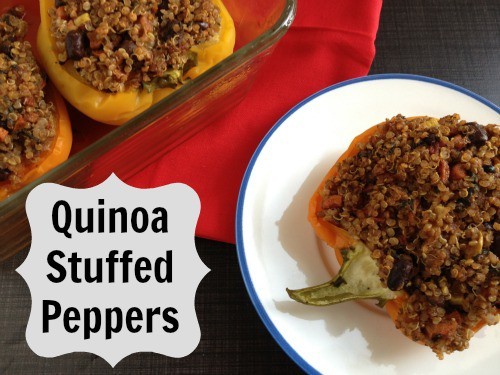 Prior to a few months ago I had never tried a Quinoa Stuffed Peppers Recipe.  I have started to really love quinoa so when I found a recipe for quinoa stuffed peppers I knew it was going to be good.
When I started to make the recipe I realized that I was going to need to adjust it a bit so I started the trial and error process of making it what I like and what I had in the house.  That is the best part about stuffed pepper recipes, you can change them based on what you have at home.
Quinoa Stuffed Pepper Recipe
Quinoa Stuffed Peppers Recipe
Author:
Prep time:
Cook time:
Total time:
Ingredients
1 medium onion chopped
2 Tbs Olive Oil
2 Ribs of celery, chopped
3 carrots, peeled and chopped
4 cloves of garlic, minced
2 Tsp Cyan Pepper
2 cans of diced tomatoes, drained, liquid reserved
1 can of black beans, rinsed and drained
3/4 cup of uncooked Quinoa
1/12 cups of water
1 10 OZ chopped spinach, if frozen defrost before adding
4 large bell peppers, halved lengthwise, ribs removed
Salt and pepper to taste
Instructions
Heat oil in a saucepan over medium heat.
Saute onion, celery, carrot, and cyan pepper for about 5 mins or until soft.
Add cumin and garlic and cook for another minute.
Stir in spinach and drained tomatoes and cook for 5 mins.
Stir in black beans, quinoa and water.
Cover and bring to a boil.
Reduce heat and simmer for about 20 mins or until quinoa is tender.
salt and pepper to taste.
Preheat over to 350 and pour reserved liquid fromt he tomatoes into a backing dish.
Fill each 1/2 of bell pepper with quinoa mixture and place into backing dish.
Cover with aluminum foil and bake 40 mins.
Drizzle juices over the peppers when serving them.
The filling could make a great stuffed green pepper recipe too!
Be sure to check out more Vegetarian Stuffed Peppers