Stuffed Green Peppers Casserole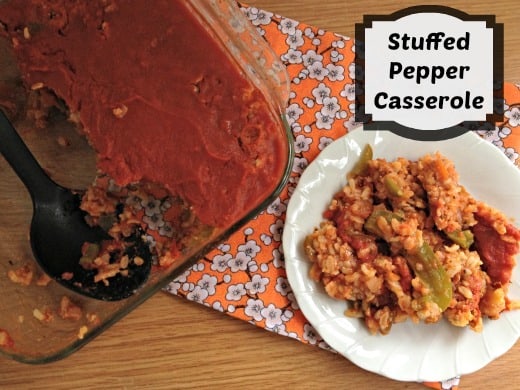 This is my husbands all time favorite stuffed green peppers casserole dish.  I love it too because it is easy to make and really good.  The key to this recipe is to layer the casserole like a lasagna.  It makes the peppers soft and very easy to make.  It also lets the peppers absorb the flavors of the other items so it tastes really good when your done cooking it.
Easy stuffed pepper casserole is a great recipe for meals that are prepared ahead and frozen.  Try this out and make a few for later!
Stuffed Green Peppers Casserole
Stuffed Green Peppers Casserole
Author:
Ingredients
1 lb Ground beef or turkey
2 Tbs chopped onion
1 1/2 cups rice
1 tsp salt
1/4 tsp garlic powder
2 15 oz cans tomato sauce
3 medium green bell peppers – tops cut off and reserved; seeds removed and sliced
Instructions
Preheat oven to 350 degrees
Cut tops off peppers and take out center stems. Chop remaining top to add to meat mixture.
Brown meat, onion and shopped pepper tops in skillet.
Drain fat.
Stir in rice, salt, garlic powder, and 1 can of tomato sauce.
Spray 9x9x3 pan with cooking pray and line bottom with 1/2 of the sliced peppers
Scoop 1/2 meat mixture into pan
Make another row of the rest of the stuffed peppers
Add remaining mixture on top of the peppers
Pour the second can of tomato sauce over the mixture
Cover with foil and Bake for 45 minutes
Uncover and cook for another 10 mins
remove from oven and serve
What are your families favorite casserole recipes?
If you liked this recipe be sure to check out our other stuffed pepper recipes!
Be sure you check out this stuffed pepper soup recipe.