The Best and Easiest Stuffed Pepper Soup Recipe Ever!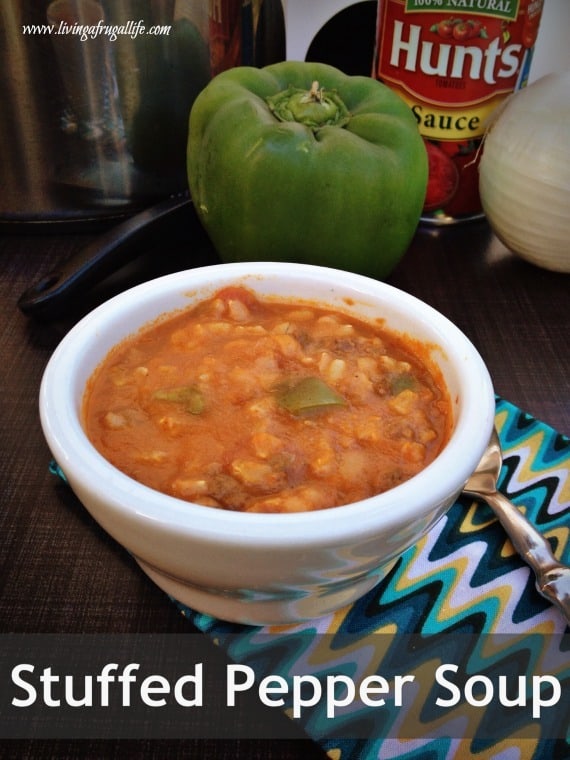 This stuffed green pepper soup recipe was given to me a long time ago from a friend names Robin.  I had it stuck in the back of my recipe book until the other day when I was looking for a soup.  I modified it a bit from the original and it was the YUMMIEST tomato base soup!
I think you will agree that it tastes like a new dimension to any stuffed pepper recipes that you have tried and it is the perfect balance!
Stuffed Pepper Soup: Frugal Recipe
Stuffed Pepper Soup
Author:
Ingredients
1 1/2 pounds ground beef
1 onion chopped
2 cups of green bell pepper
2 15 oz cans of tomato sauce
2 15 oz cans of stewed tomatoes
2 tsp. beef bullion
2 tsp. brown sugar
1-2 tsp. salt
1 tsp. pepper
3 cups cooked rice
water to desired thickness
Instructions
In a pot, cook onions and green peppers in a little oil for 4-5 min. add ground beef and cook until brown, remove all grease
Add Remaining ingredients and bring to a boil
Reduce heat and simmer about 20-30 min.
Add water until soup is desired thickness
If you love this recipe check out the recipe for stuffed peppers!
Check out more Frugal Recipes